Cineplex revenues up for Q2
Media is up 16% for the quarter, thanks to a rise in Cineplex Digital Media.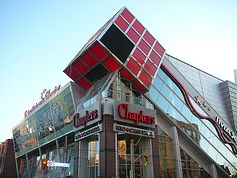 Sequels from successful movie franchises are working for Cineplex Entertainment.
The Canadian exhibition giant on Thursday said second quarter revenues for the three months to June 30 rose 7% to $258.4 million, as Cineplex screened Hollywood performers like Pirates of the Caribbean: On Stranger Tides, Hangover 2 and Fast Five.
Media is up for the quarter, moving to $22.4 million, from $19.32 million, a jump of 16% from the same period in 2010. The increase is primarily due to a rise in Cineplex Digital Media revenues, which came in at $2.8 million.
At the same time, Cineplex's profit line shrank to $13.4 million, from a year-earlier $22.2 million, as it recorded one-time charges and a higher income tax expense.
Cineplex's box office revenue rose 5.2% to $151 million.
The chain said 17.2 million Canadians came through its turnstiles during the latest quarter, up 3.8% from year-earlier levels.
From Playback Daily