What's Your City-Self?
The tourism boards of Paris and Amsterdam launch a joint digital campaign.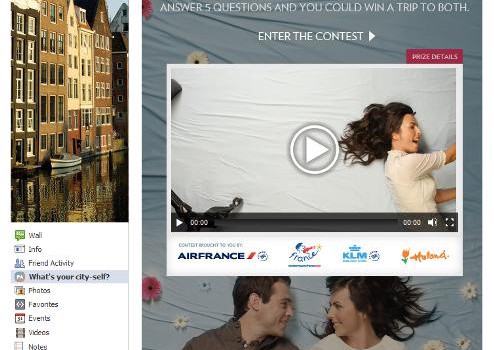 Paris and Amsterdam have joined sightseeing forces with the launch of a social media promotion that begs the question, "What's Your City-Self?"
The month-long campaign that encourages North Americans to consider voyaging to Europe when next on a travelling purge, was spearheaded by The Netherlands Board of Tourism and Conventions (NBTC), Atout France, Air France and KLM.
Consumers are asked to "like" the joint Facebook page, created by Montreal-based Espresso, where they can respond to five multiple choice questions such as, "What do you find inspiring?" with answers including, "Post-impressionist art" and "The latest trends." From the responses, the Facebook tab will judge whether their "city-self" is more Amsterdam or more Paris. They will also be entered to win accommodation for two nights in Paris and two nights in Amsterdam, flight included.
Thijs de Groot, marketing director, Netherlands Board of Tourism & Conventions, tells MiC that travellers tend to forget how close the two cities are to each other and that this initiative aspires to have them visit either one or better yet, both, next time they travel.
"We thought that a social media quiz would be a fun way for travellers to find out which city best suits their taste and offer them ideas to help them plan their trip to either city," he adds.
All together, the tourism boards and airlines' Facebook following tallies a total of 221,000, says de Groot, adding that through the use of social media, the promotion has the potential to reach a large, targeted audience already interested in travel. Additionally, the contest will be promoted through Facebook ads.
"The objective of this campaign is to generate incremental travel to Paris and Amsterdam on Air France and KLM," he says. "By raising the awareness and interest for the destinations and by creating a tie-in with travel ideas and bookable flights and hotel offers we hope to convince travellers to check out these cities."