Adcabs promotes real estate
The media co is partnering with Coldwell Banker to place ad wraps with QR codes on Vancouver taxi doors and windows.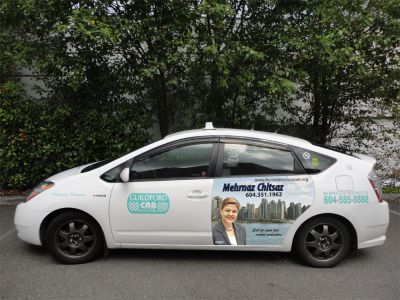 Adcabs Media, a Vancouver-based agency that places ad wraps on taxi back doors and windows, has partnered with Coldwell Banker City Centre to execute a promotional campaign using QR codes to direct passengers to its realtor's listings, Jalil Asaria, president and co-founder, Adcabs Media tells MiC.
Cossette developed the taxi ads, which are being rolled out across in North and West Vancouver this week. The accompanying two-dimensional codes will be centred on the back windows of cabs, allowing both passengers and pedestrians to scan them, he says.
Competing media companies in Canada are placing ads on the plastic triangle mounts that sit on top of cabs. But, Asaria says that the city of Vancouver does not support the format as the advertisements detract from the actual use of the sign, which is to inform passengers of whether it is vacant or not.
He adds that the exterior cab doors provide brands with a larger advertising space that attracts attention and if the ads are placed inside, the captive audience will have something to engage with.
"We also don't plan to clutter our cabs with several different ads," says Dave Haboosheh, CEO and co-founder, Adcabs Media. "It takes away from one of our value propositions, which is that you are the only one on a cab."
"And being a new medium, people are going to notice it a lot more as opposed to an already saturated platform," he says.