The Big Bang Theory proves itself with Canadian ratings
CTV says the recent average of 4.01 million viewers posts a record for a continuing series on the Canadian TV dial.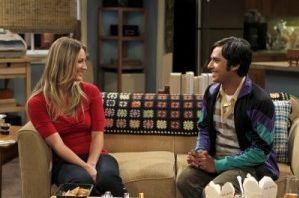 The Big Bang Theory's brand of college humour may be less edgy than rival twenty-something comedies, but the geeky CBS sitcom has secured a solid Canadian audience that has CTV bosses laughing on Thursday nights.
The U.S. series about two genius physicists who work at a California research university had an average audience of 4.01 million viewers from Sept. 19 to Oct. 16, according to BBM Canada data.
That makes The Big Bang Theory the most-watched TV series on the Canadian TV dial currently.
It's also the first time a TV series has posted an average audience above four million viewers in Canadian primetime since electronic records began in 1994, according to CTV.
Four million viewers represents rarefied air normally reached only by marquee live shows like major sporting events and Hollywood awards shows.
Although the sitcom was comfortable in its Monday night slot for three years after its fall 2007 series debut, last September CBS shifted Big Bang Theory to a more competitive Thursday night airdate.
For CTV, which simulcasts the CBS sitcom and so had to follow suit, the scheduling change was risky, and ultimately fruitful.
Airing this year on Thursdays at 8 p.m., The Big Bang Theory's audience has increased by 25% over the same period last year, when the average audience was 3.2 million.
The comedy now delivers almost 1.3 million viewers more than the next most-watched program in the country, CSI: Crime Scene Investigation, with 2.72 million eyeballs, CTV reported.
The Big Bang Theory also has the biggest PVR playback of any program on Canadian TV, with an average playback audience of 919,000 viewers.
-With files from Melita Kuburas
From Playback Daily