Remodelista.com gets a new look
The Say Media-owned site has gone through a complete overhaul, creating a de-cluttered design destination with new ad opps.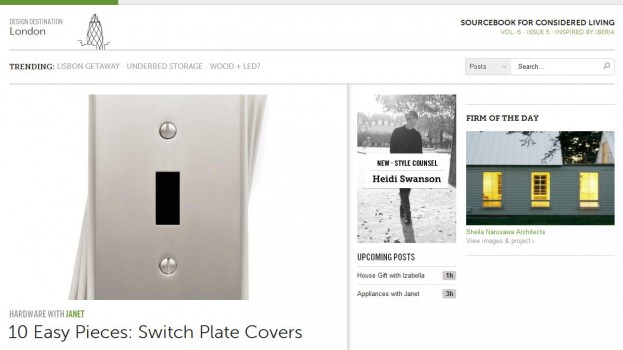 Say Media has kept its word, giving its interior design blog, Remodelista.com, a complete facelift, from its content direction to the site's advertising framework.
Ridding itself of the typical blog-style look and feel, Troy Young, president, Say Media, tells MiC that it decided to take the basic layout of articles running along a single page in a chronological flow, and create a site with multiple pages, stretching across the screen to reflect the classic look of a magazine.
A new search tool was created to help readers navigate through different rooms, colours and type of products, and there is also a new City Guide feature with over 1,000 posts on hotels and lodging, organized by location.
"We wanted to create tools that people could slice and dice through content with and so [the site] not only became a better editorial experience but also a better tool for customers," he says. "We really wanted to mix the idea of inspiration and utility."
Young adds that a new fashion feature will be the first to kick off a new direction for the site, where Remodelista will eventually interest those looking for a broader lifestyle destination and not just a specialized home improvement site.
For advertisers, the site is less competitive for space and gives brands longer eyeball-time with readers than standard online box ads, says Young.
While most webpages have ad units from top to bottom that compete with others, Remodelista has limited it to one single advertiser that dominates the right-hand column with the ad scrolling down in sync with the reader.
"The problem with most sites is that there are too many ads on a page," he says. "Publishers aren't getting enough yield from them and so they are placing more and more ads on the page. Advertisers aren't getting enough value as their ads are competing, and in many cases, they're scrolled out of view almost instantly and so they're not really being seen."
There are additional ways for advertisers to use the Remodelista space, says Young, including sponsorship titles of editorial content as well as custom content programs.
Along with the site polish, Remodelista has also been redesigned to allow readers to access content on all platforms without the need of an app, says Young, adding that the site content will adjust appropriately to fit any size smartphone and tablet screen.