Laker Beer aims to drive sales with cars
The Brick Brewing brand enters the spirit of spring with a Jeep Wrangler giveaway supported by a larger-than-usual radio and outdoor campaign.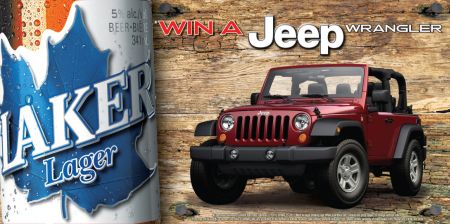 After witnessing a 24% growth in two-four bottle sales last fall during Laker Beer's "Win a Ram Truck" promotion, the Brick Brewing brand decided to jump back into the contest saddle with another vehicle incentive for consumers who purchase its lager.
The "Win a Jeep Wrangler Sport" spring promotion begins this week and ends on May 25, with one Laker Beer drinker winning the Chrysler automobile. In order to enter, consumers input the PIN number online found on specially marked two-four bottles or scan the QR code found on the game card or case.
To accompany print materials displayed at a number of Ontario Beer Stores, the brand enlisted Toronto-based Unitas Reputation Services to deliver a billboard, transit shelter and radio campaign which runs until April 22, George Croft, president and CEO, Brick Brewing tells MiC.
Croft says this particular mix of media (which is much larger in scale compared to the fall promotion) will increase awareness for the brand and efficiently target a younger audience of men between the age of 19 and 30. Last year's Ram Truck promotion was geared toward a 25-to 49-year-old audience.
"There are lots of media choices, lots of which are great, but for us we want to make sure that whatever choices we make that we have appropriate GRP's to make it meaningful. We don't want to jump around too much," he adds.
By reaching out to consumers this way, through the contest and campaign, he says Laker Beer hopes to develop a unique personality and consistent positioning that will allow the brand to distinguish itself from others in the beer market.