ABC Life Literacy puts media spots on sale
The non-profit's annual Media Sale includes discounted ad space from the Globe and Mail, Pattison Outdoor and Bell Media.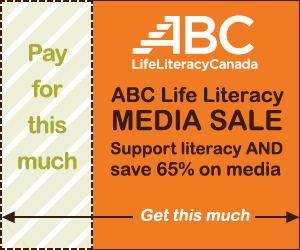 ABC Life Literacy Canada is doing its part to help adult Canadians cope with poor reading and writing skills with the launch of its 12th annual Media Sale.
Beginning next Monday (April 30), the sale includes media space donated by magazines and newspapers including Canadian Business, Canadian Living, Hello! Canada, Metro and the Globe and Mail, as well as from Pattison Outdoor and Bell Media Interactive. The media space is being sold at 65% off the rate card value on a first-come, first-served basis.
Since the launch of the sale in 2001, the non-profit organization has raised over $1.4 million for literacy in Canada, Ana Oliveira, marketing manager, ABC Life Literacy Canada, tells MiC.
"The first year of the sale was a live event in Toronto called the Gutenberg Fair," she says. "And over the years, the event [has] evolved to [become] an online sale and in addition, print media, digital outdoor and online [space] has been added."
Interested advertisers, marketers and small businesses can register to participate, as well as get a sneak peek at the media space that will be up for sale, on the organization's website.