Arbraska Treetop Trekking gets outside with Astral
The adventure zip-lining company has just opened up its eighth location and is celebrating by wrapping transit shelters in Toronto and Montreal.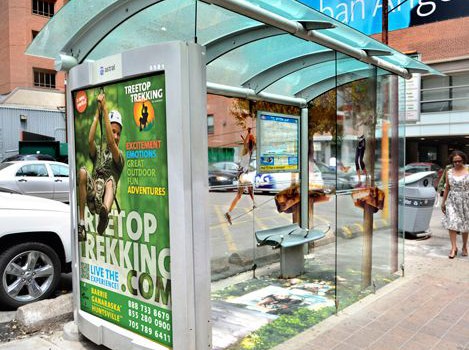 Arbraska Treetop Trekking has given Astral bus shelters in Toronto and Montreal a taste of the great outdoors with ads placed by the company's marketing team to celebrate the opening of a new park location.
The outdoor co offers zip-lining adventures through canopy trees, as well as other forest activities, in eight different locations in Canada.
In conjunction with the OOH media buy, which includes creative by Montreal-based Créatures Stratégie Image, the outdoor adventure brand has also placed print ads in magazines including Summer Fun, Lisa Boulianne, corporate sales coordinator and event marketing, Arbraska, tells MiC.
Arbraska chose outdoor media to promote their new park in an effort to reach female-skewing urbanites between the ages of 24 and 35, says Boulianne. And to tantalize consumers, QR codes have been placed on the creative which, when scanned, redirects them to watch a video on zip lining.
Coral Fraser, project manager, media markets and innovation team, Astral, adds: "Some of the billboards in the Montreal market were [placed] on the way to cottage country, so [the brand] can reach people who enjoy the outdoors."
This is a first for Arbraska, as it will typically place a minimal amount of billboard advertising on highways, but it decided to branch out to include downtown areas in an effort to get city-dwellers to think of going outdoors with the company, says Boulianne.
The summer campaign will run for a total of five weeks within the two markets.