Couche-Tard brings new meaning to its messaging
The convenience store network is using cabs and billboards to illustrate how close its stores are to consumers in its first OOH campaign.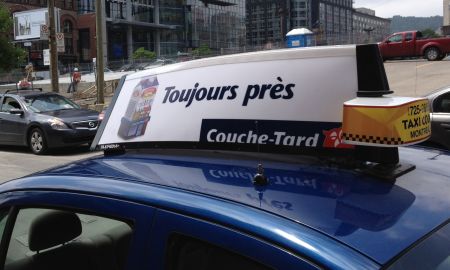 Couche-Tard is sticking with its tagline of "Toujours Pres" (translated as "always close") in its latest campaign, but with a few tweaks made to its creative to really get to the heart of its positioning, Elfi Morin, account director, SVM (the Montreal-based agency charged with developing the creative), tells MiC.
The convenience store's in-house marketing team planned and purchased the media, which includes both billboards and taxi toppers. More than 100 ads can be seen atop cabs in downtown Montreal and the idea is to have Couche-Tard's advertising bring its messaging of proximity to life, says Morin.
"The objective was to reach the targeted shopper through their potential needs by showing the most popular products," she says, further explaining that the four main "trip trigger" products used in the creative include milk (Lactancia), coffee (Van Houtte), frozen beverage (Sloche) and a soft drink (Pepsi).
New creative called for new media, with the brand using out-of-home for the first time and shying away from past traditional radio and TV placements. Morin adds that the use of street-level advertising allows the brand to demonstrate how close it is to consumers and that "the presentation of the product literally 'in' the Couche-Tard store [also] enhances the proximity element."