Zoom Media launches Zoom MedTV
The Canadian outdoor media company is installing screens in over 100 medical waiting rooms, allowing advertisers to run video spots and digital signage.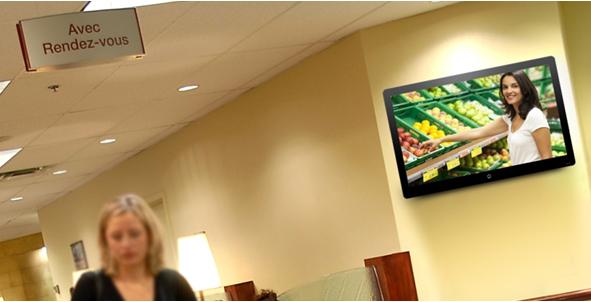 Zoom Media is rolling out a network of screens in over 100 clinics and family practices, as well as in pharmacies housed in Loblaws and Great Canadian Super Stores, which will be called Zoom MedTV.
The 40″ LCD and plasma screens can run either video spots or digital signage, Fiona Donoghue-Paylor, general manager operations and services director, Zoom Media, tells MiC. Research shows that the typical wait time to see a health professional is 40 minutes, she says, adding that each advertiser will be able to run their message at least once within that dwell time (the range of 15- and 30-second ads run on a 15-minute loop).
"There is extremely high receptiveness and brand association with the credibility of physicians," she notes. "The environment provides high impact with low advertising clutter."
The OOH media company is working on confirming two major brands within the CPG category to use the screens, she says, adding that advertisers can deliver "detailed information and health-related messages" that are contextually relevant for the audience in the waiting area.
Medical offices see an average of 3,500 patients per month and 50% of that audience is 50-plus, with the remaining 24% between the age of 18 and 24 and 26% between age 35 and 49, according to PMB and OMAC research supplied by Zoom Media. Women constitute 57% of the audience with an average household income level of over $80,000.