Alberta Health Services steps in to deflate cancer confusion
Ads in fitting rooms, medical waiting rooms, websites as well as senior and community newspapers ask women their age to determine when they should be screened.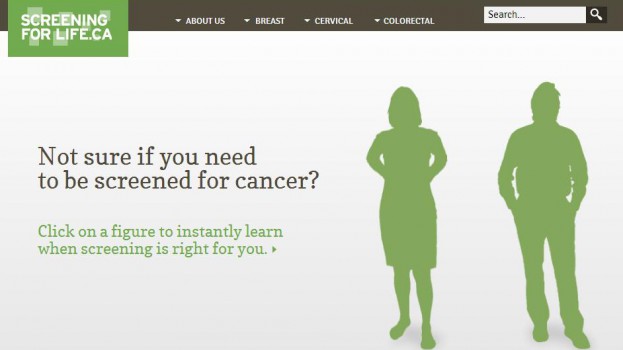 Tapping into the time women spend trying on clothes in retailers' dressing rooms, (an average of thirty minutes in fact),  Alberta Health Services chose to have its messaging sit in Winners' change rooms for the next six weeks, Debra Sharp, digital director of the organisation's creative agency Manifest Communications, tells MiC.
While shoppers spend their time in the enclosed spaces examining the clothes, creative educates viewers on when best to screen their bodies for signs of cancer, she says of the "Screening for life" campaign that's running in Calgary and Edmonton. Waiting rooms in medical buildings, another destination where Canadians spend a significant amount time in, will also feature the creative, but in the form of video spots on screens. "We decided to go into settings where we knew we had somewhat of a captive audience and where they're thinking of their bodies," explains Sharp of the media which was planned and purchased by Manifest in conjunction with Alberta-based Kick Media.
Each touch point drives to Screeningforlife.ca where visitors are invited to take a short assessment to find out when they should think about getting screened for cancers including, but not limited to, cervical and colorectal. From there, they can opt to take a second, more in-depth, evaluation to find out their level of risk of cancer, according to their personal family history and lifestyle. Being that the main driver for the campaign is the website, a heavy dose of online placements on female-targeted sites (such as AllRecipes.com, Starpulse.com and Chatelaine.com) was included in the media mix, she notes. The banner creative is, in essence, a replication of the site's assessment tool where online users can answer the questions by interacting with the ad. "We wanted to make the banners hard-working by actually bringing the website into the ads, so to speak," she says. "So without ever leaving the page, you can input your age and gender and when you submit, you bypass the page and you get the results immediately."
The site launched a month ago, but the campaign to support it only began a week-and-a-half ago. In the short time that the ads have run, Manifest has tracked nearly 4,000 visits, accounting for 75% of total traffic, she notes. But it's the average bounce rate (the percentage of viewers that leave the site after viewing only one page) that has Sharp measuring its success so far. Early results show a bounce rate of 4.26%. "Anything below 30% is considered excellent," she says, adding that the site's lower rate is an early indicator that media and creative are delivering the right traffic to the site. "Almost everyone who clicks on the banner is truly interested in spending time at the site."
Women from their 20s to their 50s are the target audience for the OOH and online media, but reaching out to an older demographic, the Alberta Health Services had to look elsewhere to promote its messaging, she says. So it placed ads in senior newspapers such as the Calgary Senior and Edmonton Senior. To reach the rural communities in the province, of which Sharp says tend to have higher "under screened" numbers than urban areas, the organization also purchased ads in community papers, including the Cold Lake Sun, Fox Creek Times and Smoky Lake Signal.
"We're using all of these various media touch points to drive to the site because that's where people can get the information they need to make an informed decision themselves," says Sharp, adding that cancer screening can be bewildering for some and that the campaign and digital initiative is meant to clear up the confusion that prevents people from taking action.