Crave Online Media relaunches
The men's news hub is rebranding to offer more exclusively Canadian content, as well as a wider array of ad and sponsorship opportunities.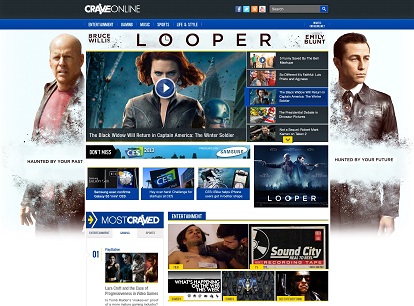 Crave Online Media unveiled its freshly redesigned flagship website Tuesday, as part of a broader rebrand for the men's news hub in Canada and globally.
With a focus on entertainment, gaming, sports, music and life & style, Crave Online, which is part of Evolve Media's portfolio, targets men aged 18 to 34.
Walder Amaya, SVP Canadian and international operations, Evolve Media, tells MiC that the broader goal of the relaunch was to offer advertisers a greater variety of ad solutions, and provide users with more diverse content throughout the site. He adds that the big change for Canadian users will be a shift in editorial direction, which will see the site offer greater coverage of Canadian-specific content and events, such as TIFF and NXNE.
Amaya says Crave Online will continue to offer traditional ad units, but that it is also looking to grow its sponsorship offerings, both on the homepage via skins and takeovers, as well as sponsorship opportunities around its key categories and coverage of events. Additionally, Crave will look to offer more branded content opportunities, particularly with video content.
According to comScore data from January, Crave Online sees 3.2 million unique monthly visitors.