Doctors Nova Scotia tells its stories
The province's association of doctors is using a social marketing campaign to encourage people to share their personal healthcare experiences.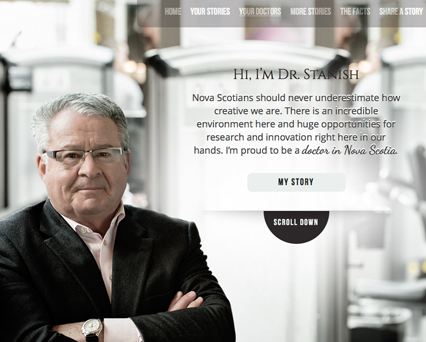 Doctors Nova Scotia, the association representing all medical doctors in the province, is looking to raise awareness about the work of its members with a social campaign that asks Nova Scotians to share their personal experiences.
With media and creative by the Halifax office of Colour, the campaign is targeted at adults above the age of 18, and is centered around Yourdoctors.ca, a website that features bios of doctors and stories submitted by their patients that can be shared via social media. The campaign  relies on Facebook and Twitter, as well as print ads in The Chronicle Herald, The Cape Breton Post and Halifax magazine.
Savior Joseph, VP digital planning, Colour, tells MiC that the campaign was driven by research that showed that a lot of discussion around healthcare in the province was occurring online. He adds that a digital campaign offered an opportunity to tell a deeper story than traditional media.
The campaign, he says, differs from Doctors Nova Scotia's typical efforts because it's focused on getting people involved, as opposed to simply projecting a message.
Print spots will run until early April, while the website will continue to be updated throughout 2013.