Oasis creates an urban orange grove in Montreal
The Lassonde-owned juice brand is going for sight, sound and even smell in its new bus shelter campaign.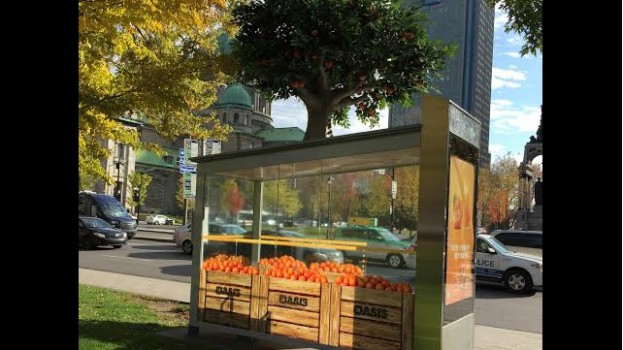 Although the weather is now a little colder and the sun is setting earlier, Lassonde is trying to give Montreal transit-goers a more summery experience with its newest bus shelter campaign for Oasis Premium Orange Juice, simulating an orange grove in the middle of the city.
While static and digital advertisements are live at more than 100 shelters across Canada, one stop (located at René-Levesque Blvd. and Peele St.) has been outfitted with a wraparound decal of orange cartons, the sounds of birds and crickets, sun lights at night, an orange tree on top of the shelter and even the scent of citrus.
The scent marketing technique is a first for Lassonde, and is also relatively new to Montreal (it was first used in a bus shelter ad for TVA's La relève in September). It incorporates essential oils that are diffused in the bus stop similar to home fragrance, and are automated to only diffuse scent when people are near the ad.
Christine Chamberland-Beaudoin, founder and president of Montreal-based Elixir Marketing Olfactic, which provided the technology to create the scent, explained to MiC previously that the company's agency partners (Quebecor for Media, Touché, PHD and LG2 for creative) can use the oil levels to determine how many people interacted with the campaign.
Lassonde VP of marketing Mathieu Houle told MiC the company tends to veer to more traditional marketing such as TV ads and billboards, though 10 to 15% of the company's advertising budget tends to go more toward experimental "stunt" media.
"We think this is the right amount to invest in something that's a little more risky and creates excitement."
In this case, the vivid scent or orange product was to help promote its current messaging of juice that is "really close to fruit," without preservatives or added sugar.
While Houle said nothing has changed about the flagship product, it is now advertising on the carton that the juice is cold-pressed (which he said has always been the case, but it is now a point of advertising to tie it with the "close to fruit" messaging). Surrounding viewers with the imagery, sounds and smells of oranges helped create a more vivid experience for people in the shelter, said Houle.

"We are very challenged by two giant players in the [orange juice] category, so we wanted to make sure that we were doing something very different from their strategy," said Houle, with those two players being Coke (Minute Maid) and Pepsico (Tropicana). However, a company rep said Lassonde would not disclose market share.
Since the shelter has only been up for one week, Houle said the company has not yet gathered sufficient data or insights into its success. The shelter campaign will continue to run until Dec. 1.