Five questions with Irwin Gotlieb about the future of Canadian TV
The GroupM chairman tells Canada's TV industry to "get over it and get on with it" on addressable TV.
The Canadian TV industry gathered this week for some frank discussions at the third annual Canadian Future TV Advertising Forum.
Thursday morning's fireside talks included one with GroupM chairman Irwin Gotlieb on the state of Canadian TV. GroupM and Gotlieb have been bullish on addressable TV, calling out legacy TV companies for not being strong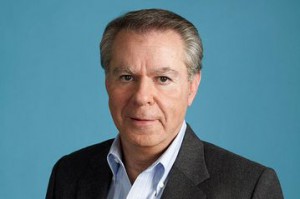 enough on data or technology.
He told attendees Thursday that the frequency of disruption in the TV industry isn't going to slow down, citing recent calls Gotlieb made encouraging SVOD services to introduce ads to their platforms.
"I have been here for the last day, and I have heard a lot of reasons why things can't be done," he said. "'It's complex, the business rules…' It's all bullshit. You have to get over it and get on with it. Because if it isn't the broadcasters doing it themselves, then it will be done to them."
MiC caught up with Gotlieb following his presentation to ask his thoughts on the viability of getting addressable TV to scale in Canada and other issues about the platform in the market.
You mentioned you have been hearing a lot of reasons or excuses why the Canadian industry can't move forward on addressable this week…
We always do. And the sad truth about legacy business is that they often don't respond to a threat until they see it. This is one threat we would love to see them respond to while they still can.
We are doing everything we do to evangelize and influence. When I was on stage, I mentioned WPP's investment in [addressable TV solution] Invidi. We put resources behind this and we think it's the right thing for our clients, ourselves and our stakeholders.
You have seen this situation in other markets. What do you see happening here if there isn't increased movement from the broadcasters?
I think it's quite frankly less about the broadcast side and more the infrastructure side.
When you have leadership that is single-minded and has a strong point of view this stuff happens quickly. When you have large siloed organizations where the individual silos aren't totally aligned that you have these endless dilemmas.
How bad is it for the Canadian TV market on addressable advertising?
It was a long slog in the U.S. too. And a long slog in the U.K. This is typical. It's unfortunate, but it's typical.
You mentioned SVOD getting advertising in the future. How far off do you see that being?
It will happen. There are so many OTT players and the deployment is very straightforward. But we have terrific relationships with our legacy media partners and want them to be around forever and would love to partner with them. We hope it doesn't take too much disruption before they react.
The Canadian market is a lot smaller than the U.S., so do you see that as an obstacle to getting these changes made?
It may not be a totally linear relationship with the size and effort costs, but this is done at a highly granular level so the cost relates to the scale. The fact that you have a smaller population makes the task far less onerous.
I don't think structurally the fact that you have vertical integration is negative, I view that as incredibly helpful. In the U.S. the relationship between a channel and the cable or satellite system is highly adversarial because you regularly have to sit down and negotiate carriage. And we don't have that to deal with here. These are just silos within the same company. What's the point of vertical integration if the silos aren't working with each other?