Roku to debut AVOD channel in Canada
The streaming player's Roku Channel offers free movies and TV shows, monetized by limited ads.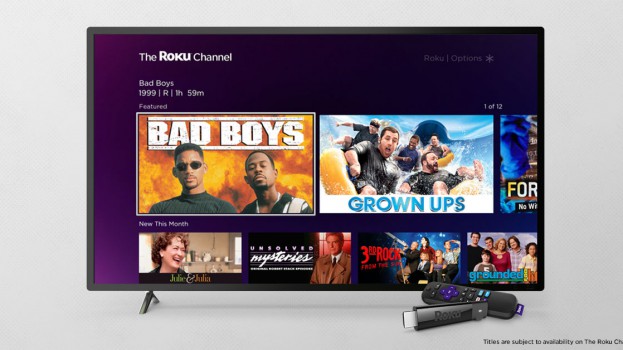 "We believe as a company that all TV will be streamed."
It's not an unexpected phrase coming from the VP of programming at Roku, a leading provider of content-streaming devices and smart-TV operating systems and sets. But with that sentiment echoing more loudly throughout the industry these days, it's not an unbelievable one either. And Roku is taking aim at Canada to carve out its space in that cordless future, with the launch of a new ad-driven product in market this week.
The Roku Channel, already launched in the U.S., is something of a curated one-stop free-content shop for Roku users on the platform's homepage. Through its physical stick, or via Roku-enabled smart TVs (20 of which are in market in Canada right now) users have access to over 5,000 channels on the service, both free and paid. The only way to find an individual show, though, is to use the universal search or go directly to, say, Netflix. As the above-mentioned VP of programming, Rob Holmes, notes, "it takes a little bit of work."
Based on that observation, Roku Channel was launched, packaging a variety of ad-supported content currently on the channel with additional library content acquired specifically for the channel from U.S. studios. (No deals have been set up with Canadian partners at this time.) Holmes likens it to an end-cap at the supermarket: something you have to walk by and is highly noticeable.
The channel is free to all users and monetized by ads, and Holmes said Roku set out to avoid common complaints consumers have about digital video advertising.
"We really wanted to set the bar for a high quality ad experience," he said in a virtual press conference. It will offer eight minutes of advertising per hour of video and will not be offering pre-roll positions in order to "get the user right into the content experience." The company is also pledging to avoid back-to-back streams of the same ad, or the same ad airing within the same block. Ads will only be streamed "once or twice" during the same program.
The overall goal, Holmes noted, is to continue to grow Roku's "active accounts," a metric it uses to track users who have used the service in the last 30 days. The company has 21 million global active accounts currently, with an average use per day of three hours. "[Average use] continues to grow faster than active accounts, so people are spending more time with us every quarter than the quarter prior," he noted.
A version of this story appears in Playback Daily.