FrontRunner steps into retail with Adidas OOH campaign
The four-week "Here to Create" campaign appears in Adidas Canada's flagship store windows in Toronto's Yonge -Dundas Square this month.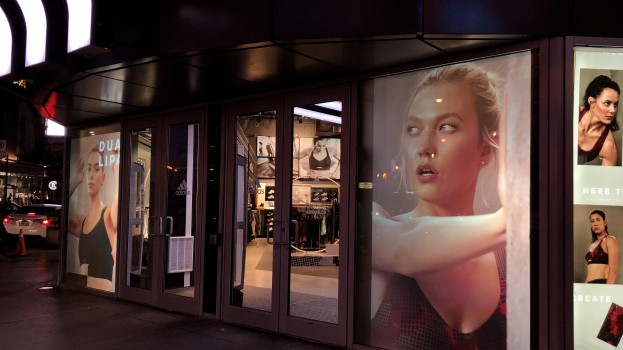 Place-based media provider FrontRunner Technologies has entered the retail space, launching a fresh campaign with athletics brand Adidas.
The female-focused "Here to Create" fitness campaign, which features musician Dua Lipa and model Karlie Kloss, is appearing in Adidas' flagship store windows in Toronto's Yonge-Dundas Square for the month of November. It is using FrontRunner's technology, which turns storefronts and windows into OOH spots and serves ads programmatically.
According to FrontRunner founder and CEO Nathan Elliot, the campaign is expected to garner approximately 600,000 impressions through the four-week duration.
Elliot says that entrance into retail has always been part of the FrontRunner plan, however it has not been a focus until now.
"We conceptualized FrontRunner early on to move into retail…but we wanted to launch with a great Canadian brand and saw Adidas Canada as being that group," he tells MiC. "There was no better location than the mecca of advertising in Canada, and that is Yonge-Dundas Square."
FrontRunner's next retail campaign, according to Elliot, is with MAC Cosmetics. Rolling out next month at the store's Queen St. West location in Toronto, the campaign will feature the company's literal "Window Shopping" technology, which transforms storefronts into an interactive "iPad" for points of purchase and catalog viewing.
The company previously rolled out campaigns for BMW Canada, Scotiabank, BMO and RBC.
Since launching in 2015, the Saskatchewan-based ad service has used what its dubbed the "FireFly Illumination System" to transform retail spots into advertising spaces through precision targeting, which uses an algorithm based on impressions, vehicle traffic and walk traffic.
FrontRunner partnered with software company Ayuda Media Systems for content management and Admobilize for audience analytics. In February, it partnered with fellow programmatic DOOH platform, Campsite.