Blog: Media Lions dissected
Media Experts CEO Lauren Richards tells MiC her favourite project of the year, and how the Canadian delegates are faring on day three of the festival.
Lauren Richards is CEO of Media Experts. She is blogging the Cannes International Festival of Creativity for MiC.
It's day three of listen hard, play hard.  People are literally up all night, and many, potentially most, stay at the Gutter Bar or the Carleton or The Rooftop until 4:00 a.m. And all the people I know have been up early and getting to the sessions, too.  They're not looking quite as fresh as when they got here though.
I'm very disappointed the Jay-Z Bing Microsoft campaign was not recognized at all in the Media Lions.  This is my favourite campaign – or as Contagious says, project of the year – and the media jury didn't even shortlist it. It is the perfect intersection of  media strategy and absolutely gorgeous creative and I actually get goosebumps seeing the video.  It's been an inspiration for me to realize what's possible when you get it all absolutely right.
Instead the media winners included a lot of stunts and one-offs that one can't even remember the next day.  The campaign did, however, win best of show in Outdoor and will continue to gather other awards here, I'm sure.
A case that had early acclaim with multiple awards already, including Media, is the brilliant interactive food display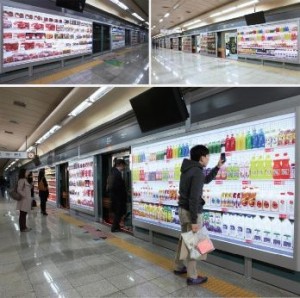 poster from Cheil Korea.  If we think we don't have enough time in the day, the Koreans actually have much less free time due to the demands of work and this out of home campaign replicates a supermarket experience/shelf display.  The brilliance is that the people seeing it could actually take pictures of the items they want on their smartphones and have the food delivered at the end of the day.
Tonight is a big night with Press, Design and Cyber being recognized.  The digital companies continue their dominance of the Cannes landscape literally – with beachfront real estate to host and entertain, seminars, dinners, parties, and tonight they're all ramping it up, given that the Cyber awards are happening.