Good Life partners with Zoom Media
The fitness franchise signs an exclusive deal with the digital media group in an effort to digitize and de-clutter club locations.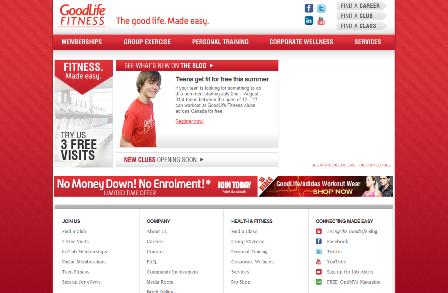 Zoom Media will begin installing cardio-theatre screens inside 275 Good Life Fitness locations across Canada, in a deal that has the franchise working exclusively with the Montreal-based digital media company, John Muszak, VP of marketing, Good Life Fitness tells MiC.
The two companies have been working together for over 10 years on a non-exclusive basis, with Zoom Media providing Good Life Fitness with static boards in each of its clubs, he said.
"We know them, we know their capabilities and we know what they can and can't do," Muszak added. "We have a good solid relationship with them; there is a mutual respect and trust for both parties."
In the next six months, the digital media co will mount one out of five cardio-theatre screens carrying the Good Life channel, which will provide exercise junkies with entertainment, club information, tips on healthy eating and training as well as advertisements.
"One of the things that we want to do going forward is to de-clutter our clubs with posters," said Muszak. "This will help clean that up. We will be able to convey more messages, information and advertising on those digital channels."
Muszak added that the move into a more digital arena will create strong messaging that will help the customer as well as communicate in-club promotions and activities.
"The fact that we are digital allows us to be far more robust in what messaging we are delivering to our customers," he said.