Torstar sniffs out a younger crowd with The Onion
The Star Media Group president tells MiC about the launch and continuing plans to reach twenty-something readers.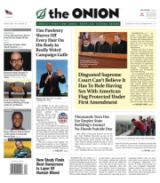 Like your news with a heavy dose of satire? Then listen up.
Torstar has entered into an agreement with The Onion to bring a weekly print edition of the parody news publication to the city starting this fall.
The deal, which marks The Onion's first print expansion outside of the US, will see Torstar being responsible for the business operations of the weekly, including advertising, sales, distribution and printing.
John Cruickshank, president and publisher of the Toronto Star and president of Star Media Group says the addition of The Onion to the company's stable of publications is the latest in a line of efforts targeted at a younger audience. Torstar recently acquired online beauty magazine The Kit and relaunched Toronto's city magazine The Grid earlier this spring.
"The Onion typically reaches a very good demographic of smart young people, university age or older who are in household formation age, or slightly before that and are making decisions about relationships they are going to have with important brands," he says. "It creates a new opportunity for advertisers. We are very confident in our penetration and long-term popularity with the older, more mature market. We want to make sure we are complementing those readers with a younger readership."
The Onion's print edition will be published weekly and distributed for free in news boxes, much like The Grid, says Cruickshank.
"Each edition is about 32 pages long, with about 15 to 16 pages of editorial content and the rest as advertising," The Onion COO Mike McAvoy tells MiC. "It includes everything from The Onion's website, except the video content. Because those are difficult to get into print."
The Toronto edition will feature some local content, including photos and local event listings, says McAvoy.