ING Direct gives away cash with Red Flag Deals
The week-long deal marks the first partnership between a group buying site and financial institution.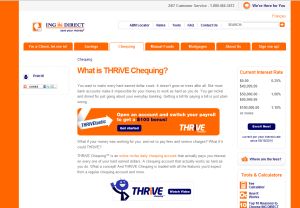 ING Direct is extending the promotion behind its Thrive chequing account with a week-long group buying deal in partnership with Redflagdeals.com.
For each Red Flag Deals customer that signs up for a new Thrive chequing account next week and transfers their direct deposits to the bank, ING Direct will deposit $185 into their account. The promotion, which runs from Monday to Friday next week is being promoted through ING Direct's social networks.
Mark Nicholson, head of digital and interactive, ING Direct says the idea to include group buying in the promotion for the new account, which has also included experiential stunts like paying people's bills, was sparked during a tweet-up the company hosted at this spring's Social Media Week.
"People who follow group buying sites are also a big part of our target market," he says. "We are targeting those over-18, online-savvy consumers. The goal with this partnership is to drive acquisitions – we are hoping to get a few thousand new customers signed up with this deal."