Ruth Asper passes away at age 78
The matriarch of Winnipeg's Asper family, which controlled the former Canwest Global Communications, died Saturday in a Winnipeg hospital.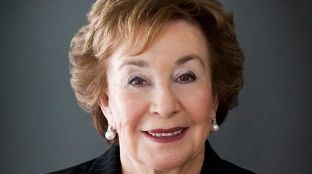 Canada's Asper clan is mourning the sudden passing of Ruth Asper, who was married for 47 years to the former Canadian media kingpin Israel Asper.
The Asper family in a statement said Ruth Asper died Saturday morning at age 78 years in a Winnipeg hospital.
The cause of death was not disclosed.
"The family requests that their privacy be respected at this time to allow them to begin dealing with this unexpected and tremendous loss," the statement said.
She is survived by her children, Leonard, David and Gail Asper, who each had a hand in running the former Canwest Global Communications Corp. TV, print and online empire before it was acquired by Shaw Communications in 2010.
Leonard Asper has since returned to Canadian media by assuming control of the Fight Network, the Category 2 digital channel devoted to combat sports.
From Playback Daily