Around Vancouver airport in 80 days
YVR commemorates its anniversary with a social media contest, with the winner living at the airport.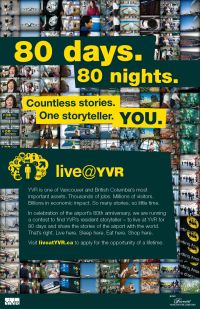 In celebration of 80 years in business, the Vancouver Airport Authority has created an online contest that gives one winner an all-access pass to its airport. The catch: they must live, breathe and document the lives and tales of YVR employees for exactly 80 days and 80 nights.
Live@YVR is the result of the airport wanting to connect with its surrounding community to give them an insider view of its 23,600 employees and 400 businesses, Rebecca Catley, director of communications, Vancouver Airport Authority, tells MiC.
"This is not about selling a product, as much as it is about informing people of the airport on which many of them rely," she explains. "Almost 6% of the employee labour force in Richmond, just South of Vancouver, works at the airport. We want to bring them forward and show an appreciation of what the airport brings to the community."
The contest is the invention of PR agency Edelman's Vancouver office and began in June when British Columbia residents were invited to submit a video that tells the story of a place, person or event in their community, to the contest web page.
What makes the campaign unique for the airport is that it is solely relying on social media to support its efforts for the first time, with ads only appearing on Facebook, says Catley.
The winner will communicate their experiences to an audience of followers on Twitter and Facebook and will upload a video each day to the Live@YVR site. The contest winner also gets $15,000, which is paid out during their stay at the hotel.
The contest is now closed for submissions and the voting round has begun. The winner will be chosen on Aug. 5 and housed at the Fairmont Hotel in the Seal Island airport to begin his or her 80 day and night jaunt.