Vice Media marries its online content
The mediaco combines its online magazine with its video site to create Vice.com. Ad and sponsorship opps are available.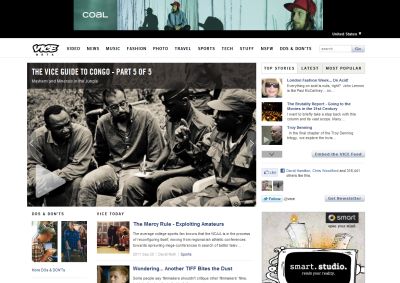 Vice Media's recipe of video and lifestyle writing has come together with the amalgamation of its magazine site (Viceland.com) and its video site (VBS.TV) to create Vice.com. In doing so, the mediaco is hoping that it will better feed its audience of 18- to 34-year-old trendsetters and city-dwellers, Shawn Phelan, director of sales, Vice Media Canada, tells MiC.
The combined site went live on Monday and is a destination for news, sport, travel, food, film and photography as well as fashion content. It is accompanied by links directing visitors to the mediaco's arts and creativity site, The Creators Project, its cultural technology site, Motherboard, as well as its music discovery channel, Noisey.
The idea behind the launch is to have all of Vice Media's digital properties under one URL so that a casual reader of the magazine can be exposed to the other makings of Vice, Phelan says.
Vice.com will act as a video hub to a slate of new and returning Vice-created shows which are supported by brands including Toshiba, Mini, Vitaminwater, GE and Incase. The mediaco prefers to have editorial independence, says Phelan, and it will shop around for partner brands that understand and want to be a part of their vision.
He adds that there will be a plethora of advertising and sponsorship opportunities available for brands to reach the site target audience, including customized content, immersive site takeovers, standard display and pre-roll ads.
Vice Media holds publication partnerships all over the world, for example, Sun Media in Canada, Huffington Post in the US and the Guardian in the UK, and the affiliations have helped the mediaco drive a more mature audience to the site, says Phelan.
Vice Media will be holding launch parties in Montreal, Toronto and Vancouver, and will continue to promote the site through its social media channels.