CBCSports.ca revamps
The website has added social TV and other ad opps on the refreshed site.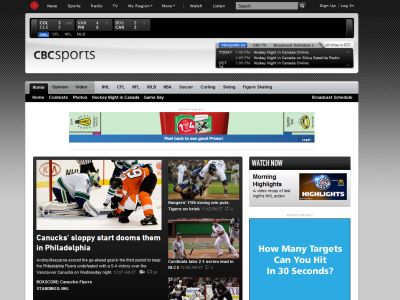 CBCSports.ca has unveiled a refreshed website which features new advertising opportunities, Michka Mancini, director of digital sales, CBC's The Revenue Group, tells MiC.
New ad formats include the increasingly popular push down format, branded content opportunities and social TV experiences around live sports shows, says Mancini.
Existing CBC Sports clients, including General Motors, Scotiabank and McDonald's have signed on to participate on the new site.
Content changes on the site include more breaking news, stats and in-depth analysis around the most popular sports, with a stronger focus on social media tools and fantasy pools.
A branded area for Hockey Night in Canada is also included in the changes that fans have been asking for in order to make the site more user-friendly, says Dan Tavares, executive producer, CBCSports.ca at CBC.
"We redid the website to enhance the user experience, to make things easier to find," he says. "The site needed to evolve, so we made it more usable."
CBCSports.ca gets more than one million unique visitors a month, according to ComScore numbers from the CBC release.