Speed Stick grows one for Movember
The Colgate-Palmolive brand changes its strategy and goes digital for its new campaign.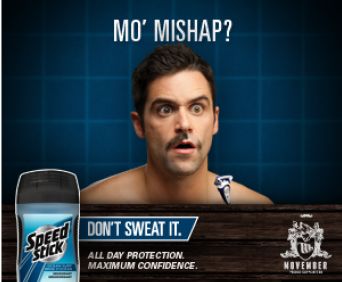 Speed Stick knows growing a moustache to raise money for prostate cancer can be uncomfortable, but it's saying "Don't Sweat it" with its new campaign launching this week.
Traditionally working with TV, the Colgate-Palmolive Canada brand decided to stick a toe in the digital waters to more precisely target men in their 20s.
Working in partnership with Movember, the campaign – with media by MEC Canada, digital creative by Real Interactive, experiential elements by 6degrees and videos by The Biz Media – centres around a series of videos of a 20-something man sporting a 'mo for the month of November, Lisa de Caires, marketing manager personal care at Colgate-Palmolive Canada, tells MiC.
"The campaign shows the main character, Jack, in some hairy situations, pun intended, and how he works his way out of them," she says. "For example, the character is trimming his moustache and sneezes, accidentally taking out a huge strip of hair."
The videos are edited with choose your own adventure-style alternate endings, and will be promoted through a digital media buy on sites including Comedynetwork.ca, Vice.com and Nfl.com, as well as through a 15-stop cross-country campus tour to bring the campaign to students, says de Caires.
Colgate-Palmolive Canada is donating up to a maximum of $50,000 to Movember in association with the views the videos receive.
The campaign runs until mid-December and is housed on Speedstick.ca.