Four Weddings Canada to premiere in January on Slice
The bridal competition show is launching with a cross-platform campaign, which includes an Angry Birds-style online game.
The launch of the Canadian version of Four Weddings, the show which sees four brides pit their weddings against each other for the chance to win their honeymoon, is set to debut on Wednesday Jan. 4 at 10 p.m. on Shaw Media's Slice channel.
According to a Shaw Media representative, the bridal showdown landed the coveted spot, which had previously been home to the Real Housewives of New Jersey, because the network feels it will be a strong ratings contender. The show in flanked by episodes of another ratings winner, Millionaire Matchmaker at 9 p.m. and 11 p.m.
Four Weddings Canada is targeted at women aged 18 to 49, and being promoted with a multi-platform campaign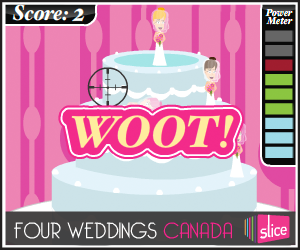 developed by Shaw Media's in-house creative and media teams. The campaign will appear on TV specialty channels, including A&E and TLC, and in print magazines like Flare, Fashion and Chatelaine.
The launch of the show will also be promoted with "Really Angry Brides," an online game running in big box units on sites including  MSN.ca, AOL Canada and Glam. The game, which will also be available through Slice.ca allows users to launch a bouquet at brides standing on a wedding cake with the goal of hitting as many as possible.
Advertising and sponsorship opportunities for the show are available.