t.o.night goes mobile
The daily newspaper has launched an iPad app that carries forward its print advertising model.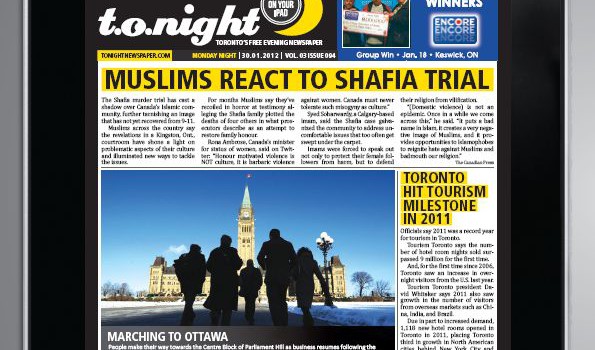 Toronto's free evening newspaper, t.o.night, has jumped on the iPad app bandwagon.
But while an ample amount of newspapers are creating a space for themselves on mobile platforms, John Cameron, publisher, t.o.night tells MiC that a good portion of them have fallen back on traditional digital banners instead of trying to mimic the advertising model used in their print offerings.
Cameron has taken a different approach and is offering advertisers the ability to promote much like they would in print – as full-page (or full-screen) ads on the front page of the news and entertainment app.
For now the app will have ads from the publication's existing print advertisers and Cameron says that there are plans to offer more digital ad units on its app in the coming months with the addition of embedded video ads that can show, for example, a broadcaster's trailer for a TV series that is programmed to air that evening.
The paper has the youngest average readership of any other daily in Toronto, explains Cameron, with the average reader being 37-year-old and 59% of them being professional females with an average household income of $87,000 per year.
"Readers and advertisers have recognized our unique positioning, which has allowed us to succeed in a crowded Toronto market," he says. "Since the morning papers usually go to print before midnight, we like to remind our readers that if they're reading any newspaper other than t.o.night [then] they're reading yesterday's news." The app will also have content uploaded in the evenings to coincide with the schedule of the print edition.