Rogers Wireless streamlines
The mobile co has launched Rogers One Number, which allows customers to connect their phone to a computer, with a national campaign.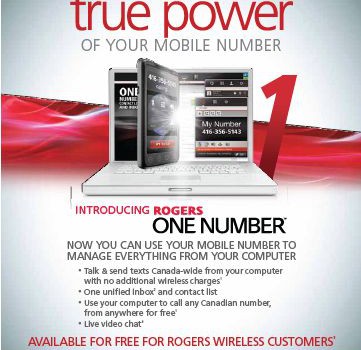 Rogers Wireless has launched Rogers One Number, a service that allows customers of the wireless co to connect their mobile phone number to their computer to send and receive phone calls, texts and video calls for free through their Rogers home internet, Tess Van Thielen, director of wireless project management, Rogers Communications, tells MiC.
"Rogers One Number targets all of Rogers Wireless customers," she says. "Tweens are excited because they don't need to have their phone nearby in order to text from a computer while they are doing other things. Older people are enjoying being able to use a full keyboard. We have heard from one 88-year-old who says that Rogers One Number has opened up a whole new relationship with their grandkids because they can text and respond so much easier than before."
The launch of Rogers One Number will be promoted with a national eight-week print and TV campaign with media by OMD Canada, says Van Thielen.
The company is reaching out to students through a digital and social media campaign as well. Mailers sent out to current customers will also announce the launch.