Goon poster furor: why censorship is the best publicity
Though unclear whether the City of Toronto or Astral Media ordered the removal of the posters, the hockey comedy benefited from some pre-release press.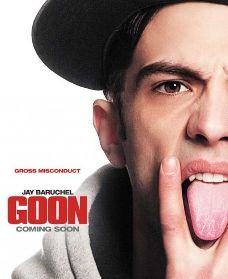 Censorship really is the best publicity when marketing an indie film against Hollywood studio competition.
Torontonians awoke Thursday this week to news that Astral Media's outdoor media division had a day earlier taken down 38 posters for the Canadian hockey comedy Goon that featured star Jay Baruchel making a lewd fingers and tongue gesture.
News accounts were sketchy, however, on who ordered the posters' removal.
Alliance Films in a statement said the City of Toronto deemed the posters "inappropriate," and "demanded the removal."
Astral Media, on the other hand, said it received complaints about the movie poster, as did the city.
And following "consultations with City officials," the outdoor advertiser decided to replace the offending Goon poster with one of two other posters created for the campaign.
Alliance Films claimed it "received neither prior notice nor any explanation as to why" the posters were removed.
Astral Media tells its differently: "The client was immediately made aware of the complaints and of the ensuing actions that were taken."
Was it consultation or coercion, then, that led to the removal of the offending posters?
Certainly the latter claim is more to the Hollywood playbook: submit a controversial TV commercial or movie poster, a TV network or movie theater rejects the ad, or replaces it after complaints; the film distributor cries foul and the media picks up on the censorship claims.
If anything, it's free publicity to help fuel box office receipts, not least because, in the age of the Internet, what public officials censor by removal inevitably becomes more widely available online.
Political campaign strategists know well that any offending TV commercial goes straight to YouTube for repeated viewing, and the Goon movie poster on Thursday went viral on Internet blogs and websites.
What's even more providential about the Goon posters incident is they were up for two weeks in Toronto bus shelters before the hornet's nest was stirred and they were taken down Wednesday – just hours before the hockey comedy had a red carpet premiere in the city.
For Alliance Films, it's a win-win.
Whether it was the City of Toronto or Astral Media that ultimately decided to remove the offending Goon poster from 38 bus shelters, thanks to the Internet, more people will view Jay Baruchel's lewd poster pose before the Canadian film debuts this weekend at the local multiplex.
CORRECTION: In an earlier version of this story, Playback's editorial team mistakenly amended this story to indicate that both the city and Astral Media removed the posters, when in fact, following consultations with the city, and both parties receiving complaints, Astral replaced the posters in question with different creative. We regret the error.
From Playback Daily