The CBC is first out of the gate with its fall slate
Alan Dark, exec director at CBC's Revenue Group, tells MiC the pubcaster wanted to beat industry fatigue by getting its 2012-2013 preview out before the NYC upfronts.
"News of CBC's demise is greatly exaggerated. We won't be retreating. We are moving forward."
The message, delivered by Kirstine Stewart, CBC exec VP of English services, came as the public broadcaster officially launched its fall lineup Thursday.
As stars of new and returning shows, as well as the CBC's news, sports and radio teams walked the runway as part of an hour-long multimedia presentation that included Kevin O'Leary dressed as the Wizard of Oz's Glinda and an appearance by the Stanley Cup, Stewart told the upfront audience that the CBC is "modern," "resilient," and "transforming."
That the pubcaster is first out of the gate with its 2012-2013 season preview was no coincidence, Alan Dark, executive director, CBC Revenue Group tells MiC.
"We wanted to get out early. It is a crazy time for advertising people," he says. "The majority of the senior management at the top agencies will be in New York next week. Then they come back, then there is about a week and the other networks roll out the US shows they bought. We wanted to pull away from that. We know what is going on, let's get out in front of everyone before anyone else goes."
One notable change as part of the CBC's new season transformation is the timeslot for George Stroumboulopoulos Tonight. In a move to reach a larger and broader audience, the show will now air for a half-hour during early primetime at 7 p.m., with an encore presentation in its original late-night time slot at 11:30 p.m.
"There's nothing on the Canadian schedule at that time in the evening that is anything like George's show, so it's a unique proposition for us to have George in a really prime space, on the strength of the people he attracts and the type of conversation he creates around the guests that come on his show," says Julie Bristow, executive director of studio and unscripted programming.
Bristow and Stewart agree that Stroumboulopoulos attracts a wide audience, evident in the strength of the numbers when he has hosted special events, like the Geminis.
Coronation Street will follow at 7:30, filling the scheduling gap left by the long-running U.S. game shows Wheel of Fortune and Jeopardy.
Stewart says that the shows make sense in the timeslots against other network's competition, and are less in place to act as audience drivers, as had been the case with Wheel and Jeopardy.
The shows, she adds, will also attract the 24 to 54 demographic.
"[Wheel and Jeopardy] gave us an opportunity when we needed it, to bring a million viewers to the schedule every night, and bring them in at 8 o'clock when these were brand new shows. A lot of our primetime schedule was not watched back then," says Stewart, adding that there is crossover potential with the George Stroumboulopoulos Tonight and Coronation Street audiences.
Another move to appeal to younger audiences is the nabbing of former MTV host Daryn Jones to host new musical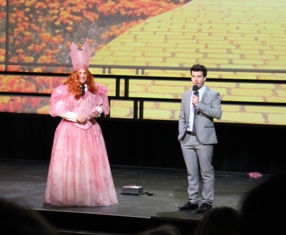 competition series Over the Rainbow, which documents the search for a Canadian musical theatre performer to play Dorothy in the upcoming stage adaption of The Wizard of Oz, from Andrew Lloyd Webber and Mirvish Productions.
The CBC's new primetime acquisitions were given solid timeslots – Murdoch Mysteries, which the CBC picked up for a sixth season after the show was not renewed by Citytv, will air Mondays at 9 p.m. starting in September. Citytv will air the fifth season starting in June.
"It was a very short meeting where we were able to say yes," says Trevor Walton, executive director of commissioned and scripted programming, of Murdoch.
"We think this has the potential for CBC; it felt like a natural fit. It's got a strong, loyal audience, it's also got a strong web presence, and fits our desire to be Canadian," he adds.
Eight-part drama Titanic: Blood and Steel will air Wednesdays at 9 p.m., a time when Stewart says viewers have gotten used to similar period programming, like The Tudors and Pillars of the Earth.
Capitalizing on the CBC's previous success with How Do You Solve a Problem Like Maria?, Over the Rainbow will air with a one-hour competition show will air on Sundays at 8 p.m., and a half-hour live results show on Mondays at 8 p.m.
New medical-police drama Cracked debuts in January, along with returning shows Republic of Doyle and Arctic Air.
The recent $21.2 million cut to the CBC's English-language lineup translated to 175 fewer original hours of programming, but Stewart say they held on to episode orders of successful returning shows that audiences want to see.
"Episode orders were full, and in some cases they were more," says Stewart.
"There are shows that are not returning that aren't being replaced. So you'll see more repeats of time blocks on our schedule," she adds.
View the entire CBC 2012 fall schedule here.
MiC sat down with Bristow, Walton and Stewart to ask what their programming edge is over the other networks this fall.
With files from Val Maloney