Reactine sides with sufferers
The Johnson & Johnson brand has released a new batch of OOH and TV spots which take allergy symptoms seriously.
Johnson & Johnson allergy brand Reactine has rolled out a new OOH and TV campaign aimed at taking a tough look at the sneezing, sniffling symptoms of sufferers.
With the tagline "They're not just allergies", the campaign with media by J3 and creative from JWT appears with OOH ads in Toronto and Montreal transit shelters as well as with national TV spots airing until the end of fall allergy season in September, Monique Zarry  VP, management director, JWT, tells MiC.
The new spring spots are the latest in the brand's evolution from its old positioning with the blue van which ran for years ending  in 2010, says Zarry.
"There was an overwhelming feeling that we needed to look and see whether the blue van had run its course," she says. "We talked to stakeholders and found that a lot of the brands in the market were using the same tone in their ads, that they were almost making fun of ridiculing the impact of allergy suffering on consumers. It seemed that the brands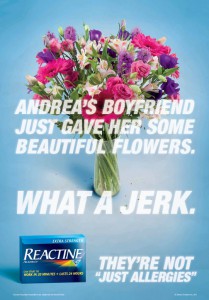 weren't taking suffering seriously."
Zarry says copy testing on the new campaign position has been the best the brand has seen in nine years, and it has reversed the stagnant share growth it had been seeing with the old blue van positioning.
"There is a lot of social recognition that we are treating the symptoms of allergies like we should be, it is about standing for your rights and not taking it anymore," she says.