Exclaim! Media and Aux TV launch Concertsherpa.com
The concert listings site has kicked off by showcasing shows in Toronto, Montreal and Vancouver, with sponsorship opps open.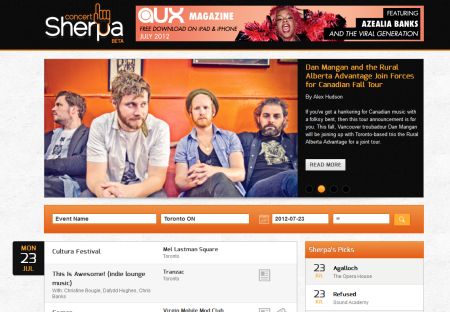 According to Simon Foster, SVP digital publishing and business development, GlassBox Television, which owns Aux TV, most concert sites only list about 10-15% of the shows going on in that city. That's what he says will set Concertsherpa.com, the newly launched site from Aux TV and Exclaim! Media apart from the pack. He claims the site, which will list concerts in Toronto, Montreal and Vancouver, will showcase every show happening in each city.
"We quickly discovered the reason why no one has done this is because it is a huge task," he says. "After about a year and a half of work we wrestled this to the ground and are proud to launch Concertsherpa.com."
Listings on the site are compiled through a combination of data feeds from venues and staff members manually calling up gig locations and inputting listings, says Foster.
A location-based iPhone app, which will show concerts based on where you are in Toronto, Montreal or Vancouver, is in the works and will be released in the next few weeks, says Foster. Sponsorship opportunities on the site and app are open, with Foster saying traditional concert partners like alcohol and car brands would be a good fit with Concertsherpa.com.