Swiss Chalet gives consumers a peek at its kitchens
The restaurant chain is touring the country with fry trucks and has partnered with comedian Jessica Holmes to promote the freshness of its food offerings.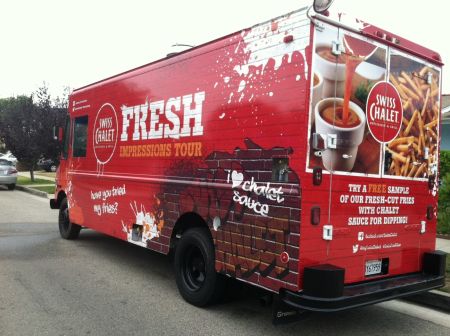 Swiss Chalet is proud of how much it puts into freshly preparing its food. So much so that it recently decided to "turn its kitchens inside out" and give consumers a glimpse of what goes on behind closed doors, Doug Milne, VP marketing, Swiss Chalet, tells MiC.
The brand has initiated a summer-long fry truck tour and partnership with comedian Jessica Holmes, with the restaurant chain transporting food trucks laden with fries and hot sauce to consumers across the country. Each free food sample will also come with a coupon for a discount on their next meal at Swiss Chalet.
Aiming to take advantage of the summer season when consumers are likely to be outdoors, the brand is shifting from its usual focus on traditional media to experiential and social initiatives with this campaign, he adds.
The restaurant chain has done experiential events before such as during the Canadian National Exhibition (CNE), he explains, but the fry truck event is more hands-on than usual for the brand.
Traditional ads have been placed on radio as well as on network and cable TV during a variety of shows as well as the 2012 London Olympic Games this week, Milne says. Direct mail flyers are also being dropped nationally at homes within a 15-kilometre radius of Swiss Chalet locations. Media placement and purchasing for the campaign was handled by MEC, with BBDO spearheading the creative for the traditional media and direct mail programming and Mosaic in charge of the experiential side.
The brand will be promoting the freshness of its food options through back-kitchen tours given by Holmes, who is visiting several Swiss Chalet locations and taking guests backstage to unveil what goes on in the kitchens. Holmes will be featured in the brand's YouTube videos with a testimonial to the quality of its offerings to target young adults. It is also working with mommy bloggers to target the restaurant chain's audience of families with kids.
The campaign aims to differentiate the brand from competitors by showing "how everything is prepared from scratch. [Swiss Chalet] is sticking to our tried and true approach of making things fresh," says Milne.