Yahoo! Canada launches Screen
The company has kicked off a new video platform, which includes international and homegrown content from partners including the CBC, Morgan Spurlock and ET Canada.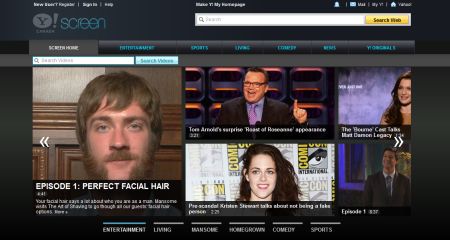 Yahoo! Canada has launched a new video platform called Yahoo! Canada Screen.
The site, which has been live in the US since last fall, brings Yahoo! video content into a single player. It is launching with video content from Canadian partners, including Watch Mojo, ET Canada, Jolted Media, CBC, Canadian Press and News Canada, Dan Unger, head of media network, Yahoo! Canada, tells MiC.
There will also be original to Yahoo! content like Morgan Spurlock's Failure Club, which follows seven people as they confront their fear of failure and Mansome, which provides men with a guide to grooming, survival and cooking. In addition there will be shows from partners like ABC News, Access Hollywood and Reuters.
"We know that nine out of 10 Canadian internet users are looking at video," says Unger. "About a third of Yahoo! internet users are looking at videos. We are looking to expand that reach."
Advertising opportunities on the site will be available around both programs and video categories on the site, like Homegrown, Comedy, Living and Sports, says Unger.
Yahoo! Canada videos had 4.4 million unique visitors in June that consumed about 49 million videos, according to comScore numbers provided by Yahoo! Canada.