Freedom 55 gets with the times
The London Life-owned financial co is targeting a younger audience with a new unbranded campaign that presents freedom in a different light.
London Life-owned financial company Freedom 55 has long been associated with helping adults prepare to retire early, but Alf Goodall, senior VP of marketing at London Life, tells MiC the company has recognized that people either aren't able or don't want to stop working at the same age they used to. That's why the company has changed up its marketing strategy, launching a new campaign called "Inspiring Freedom," which asks consumers "What does your freedom look like?" rather than showing them.
Goodall says the new campaign, with media by MediaCom and creative by Toronto-based Bright Red, targets a slightly younger demo than the financial co usually does, going for consumers aged 25 to 34. The 13-week campaign is OOH- and digital-heavy, focusing on urban cities like Toronto, Vancouver and Calgary, says Goodall. There will also be print ads running largely in daily Metro newspapers.
The ads are unbranded, he says, because the company wants to encourage consumers to go to the microsite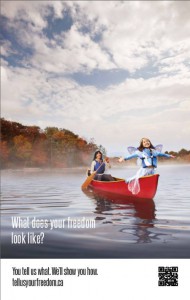 Tellusyourfreedom.ca with an open mind, rather than associating with Freedom 55 and the idea of retirement.
"When [people saw Freedom 55] they thought about early retirement," he says. "Going unbranded helps to move people beyond the initial impression to say we get that people have changed and are changing. The new campaign is meant to give people a sense that freedom can be anything that consumers want it to be. It can be very grand or it can be very small."
Goodall says the ads are the first for the brand since it had a print campaign in 2010. It has spent the past 18 months researching and gearing up for its latest campaign, which went live yesterday.
The new campaign also includes a one-day event at Toronto's Pearson International Airport where "Freedom Amabassadors" from the brand will encourage passengers departing for Vancouver, Calgary, Edmonton, Winnipeg, Ottawa and Halifax to wear a yellow Freedom shirt, and if they are spotted they will get a prize.