Future Shop celebrates 30 years
The company is launching an online game and weekend-long sale to celebrate its milestone anniversary.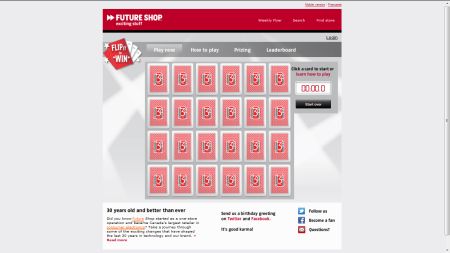 Future Shop is celebrating its 30th anniversary of business in Canada by launching a weekend-long sale as well as a online and mobile-based contest.
Allen Chen, senior manager, online marketing, tells MiC its "Flip it to Win" memory cards-style game will live on the brand's Facebook page. Consumers who match the 12 pairs of cards in the best time will be posted on the online leaderboard, and also have a chance to win $5,000 in Future Shop electronics or one of 12 secondary prizes.
The online and mobile-friendly game is targeting Future Shop's core demo of 18- to 35-year-old tech enthusiasts, using retargeting technology to reach people who have already been on the brand's site on networks including Casale, Olive Media and Admob.
All media and creative behind the brand's 30th anniversary celebration promotions were done in-house, says Chen. The game was created with Vancouver-based agency Oct. 17.