OUTtv unveils three new shows for fall
The lineup includes DTLA, a gay drama about eight friends in Los Angeles that the Canadian specialty channel co-produces.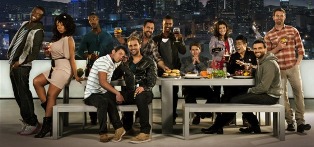 OUTtv has added three new series to its upcoming fall TV campaign, including the Los Angeles-set drama DTLA (pictured), which the Canadian gay network co-produces.
The first gay drama since Showcase's Queer as Folk, OUTtv COO Brad Danks said the edgy series about eight friends of different ethnic, cultural, and sexual orientations living in downtown L.A. reflects a Canadian specialty channel marching into the mainstream, programming-wise.
"For us, it's about finding that sweet spot, finding a series that the core issue is the gay community in programming, while the core challenge is you really do need to cross to the mainstream audience to make content that is monetizeable," says Danks of OUTtv's programming strategy.
The other new series include The A-List New York, a docu-reality series from the producers of The Real Housewives of Atlanta that tracks six members of New York's gay power elite, and Candy Bar Girls, a British reality series about lesbians who work at the world-famous Candy Bar in Soho.
That, and returning shows like RuPaul's All Stars Drag Race, RuPaul's Drag U and the Alan Carr talker Chatty Man represent an OUTtv that has long since escaped the low-budget programming spot in Canadian TV filled by its predecessor, Pride Vision.
"You're running hot and cold water to get the temperature right. It's a core LGBT show that will find mainstream interest," Danks said of new shows on its schedule.
From Playback Daily