VideoPages incorporates multimedia content
The online and mobile business directory is now allowing brands to place video content on its pages.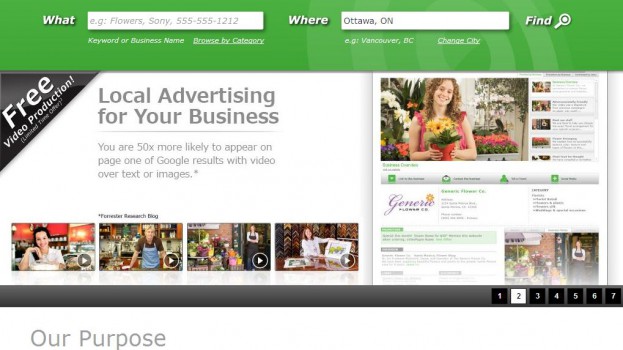 Online and mobile platform VideoPages shares a similar business model with the Yellow Pages in that it provides internet users with a directory of businesses across the country, albeit through videos rather than just static information-laden pages. The Ottawa-based company has been developing its brand and building its business listings since early 2008, and this week, it announced the launch of its "National Video Advertising Solutions."
Noel Tarabocchia, founder and CEO, VideoPages, tells MiC that the advertising solution provides brands with a page to place video content (usually spots between one and two minutes) produced by one of 5,000 VideoPages camera operators who visit and film the business on-site. Alternatively, the brand can place its own in-house or third-party produced creative, he adds, and the content typically features a representative talking about a promotion or sale happening at stores.
Before the official launch, 50 businesses across a wide range of product categories, from restaurants to renovation services, tested the video product in a pilot program, he says. "We wanted to make sure that it's not all automotive or real estate, so that it's an attractive service to a wide range of customers."
Right now the site is filled with 16 million listings across Canada and the US, ranging from small- and medium-sized businesses to larger, more national brands. The focus is to have the local businesses upgrade their pages first, and move them from having text-heavy listings to include multimedia in the form of video and images (which can also be shot using the VideoPages app and immediately uploaded to the site from their mobile devices).
"We're now taking it across North America and we decided to create partnerships with ad agencies that already have a lot of their clients under their wing and manage their media placements," he says, further adding that video was chosen as a focus because it is an engaging medium that delivers high conversion rates. The value for consumers is the immediate access to local and national brands through daily deal offers, he adds.
In the New Year, VideoPages will launch a consumer-focused campaign (partner agencies have not yet been confirmed) to create awareness for the platform, using search engine marketing, as well as TV and radio, says Tarabocchia, and it will be making an announcement that involves a national grocery chain using the platform for a major promotion.