Heineken builds a train
The beer brand has placed a clear train car in Toronto's Union Station to attract commuters and promote its Crack the Case game.
Canada is one of eight countries around the world where Heineken is partnering with the new James Bond movie Skyfall to launch its Crack the Case promotion.
With media by MEC and creative from BBDO, the Canadian creative which launches today and runs until December had the unique challenge of promoting the partnership to the brand's core demographic of males aged 19-to-45 without using any images of Bond himself or the franchise. This is due to Canadian advertising guidelines which prohibit the use of celebrities to promote alcohol.
The campaign instead draws on the movie's use of trains and secret agents by building its own clear train car (pictured) in the great hall of Toronto's Union Station where travelers can stop in and play the online Crack the Case game. The game offers players both at Union and from the comforts of their own homes a chance to win a trip to the private screening of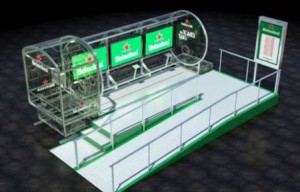 the movie in Toronto on Nov. 8, Michael Grimes, brand manager, Heineken Canada, tells MiC. People who win passes to the movie will be given a briefcase, one of which  holding tickets to a trip to London for a free Bond-themed vacation.
Consumers will also be driven to the online game through digital spots running on sites including MSN.ca and Yahoo.ca and TV commercials on conventional primetime shows in primary markets in Ontario and Quebec, with national spots running on specialty TV channels like TSN, Discovery and Showcase. The brand is also sponsoring a Bond movie marathon on Nov. 3 and 4 on Showcase.