TVO refocuses on digital content, reduces TV workforce
CEO Lisa de Wilde on the brand's new focus and where cuts will be made.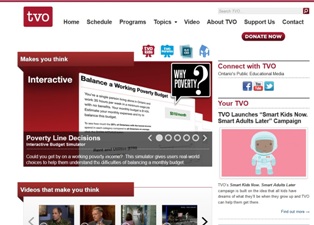 Ontario pubcaster TVO has unveiled a comprehensive restructuring roadmap, one that it says better orients the organization for the four-screen era and refocuses its efforts on content for the children and current affairs niches, the organization said Tuesday.
The plan comes in response to changes in TVO's government funding, following the provincial budget announcement in March that TVO "will generate new revenue to reduce its dependence on government grants, while remaining publicly owned."
The restructuring calls for job cuts, with 35 to 40 current employees leaving TVO by the end of March 2013.
"We reviewed the whole organization; we are essentially taking 20% [of the job reductions from] non-union and management, so we're consolidating six departments into three. [Two departments were consolidated in] content and programming, [two] in finance, [two] in technology," says TVO CEO Lisa de Wilde.
The balance of the reductions, she adds, are going to be part of a process that the organization will set up with the unions, which also began Tuesday.
De Wilde adds that a total of nine non-union and management employees were told Tuesday that they will be leaving the pubcaster.
The job cuts are in addition to TVO reducing expenses and re-allocating resources into digital development, all for a net reduction of $2 million (which is 5% of its provincial operating grant or 3% of its total budget).
The reduced resources also mean that TVO will discontinue three series at the end of next spring – Allan Gregg in Conversation, the Big Ideas lecture series, and the long-running Saturday Night at the Movies.
The increased focus on digital content is, according to the organization, a response to multi-platform content distribution, new business models and financial constraints.
So the job cuts at TVO will see fewer staff dedicated to traditional TV production, and instead filling "multifunctional roles that leverage the efficiencies of digital technology."
Kids and current affairs focus
The two priority areas for digital development and innovation going forward will be in the kids and current affairs arenas.
In the kids' space, that means putting more resources into creating more educational curriculum-based content, says de Wilde.
"This is a very exciting time around education, pedagogy and technology. We think we can be real pioneers in helping teachers teach kids, who are digital natives. We think that we can really make an impact around 21-st century learning," she adds.
That means further developing existing partnerships, like TVO's relationship with OISE, through which they test the educational effectiveness of their content, and building new ones, like pacting with Waterloo-based ClevrU last month to bring TVOKids content to mobile phone users in China.
"The beauty of that partnership is that we are repurposing the content we are creating for our mission here in Ontario, and repackaging it for sale on mobile platforms in China," says de Wilde.
And exploring new business models will continue to be a part of the digital strategy going forward.
"Revenues are fundamental to our sustainability, so yes, we are exploring constantly how we can, within the sandbox of our educational mandate, monetize and grow new revenue streams," she says.
And while some staples of TVO's broadcast schedule will not return after next spring, de Wilde says the core of the organization's programming will remain unchanged, particularly its commitment to documentary films and kids series, which she says are "critical" to TVO's success.
The Ontario pubcaster's main three drivers on its broadcast schedule are an all-day kids block from 6 a.m. to 7 p.m., current affairs and documentaries, which de Wilde says make up approximately 50% of the primetime schedule, and which she adds will become even more important in the schedule.
"Really, we are going to be investing in how we can use the tools that digital makes available to actually create in our current affairs space something that is an interactive hub where there is going to be an ongoing conversation," de Wilde insists.
From Playback Daily