Preventable promotes holiday safety
The B.C.-based non-profit's campaign includes messaging on snowboards and helmets, and aims to start a conversation about avoiding injuries.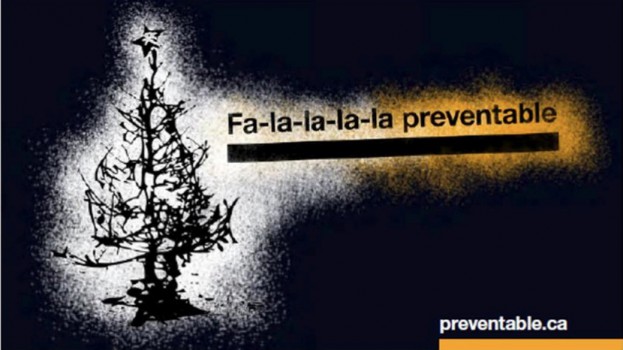 Preventable, a B.C.-based non-profit organization, is kicking off a province-wide holiday campaign that aims to get British Columbians talking and thinking more seriously about safety and how to prevent injuries.
Targeting men and women aged 25 to 54, who are more likely to have children or parents to take care of, the campaign will rely heavily on TV spots, courtesy of Preventable's long-standing partnership with Global.
With creative by Wasserman + Partners Advertising, it will also make use of traditional OOH across the province, such as billboards and poster boards, have a limited run in cinema pre-shows, and feature a projection wall on the Sears Tower in downtown Vancouver, with the campaign jingle "Fa-la-la-la-la Preventable."
As has become routine for the non-profit during its past "Summer Drowning" and "Winter Helmet" campaigns, its holiday initiative will also make use of guerrilla marketing tactics, putting the message on snowboards and helmets.
Ian Pike, director of the BC Injury Research and Prevention Unit, tells MiC that this was a key part of the "Summer Drowning" campaign, which used towels as a medium, because it made the items into portable billboards, and that the media strategy as a whole has been effective because it was formed based on conversations with British Columbians.
"The campaign you see, with all of its elements, is really a reflection of what British Columbians said would resonate," he says, noting that they made it clear that shock campaigns wouldn't engage them.
"Our campaign is different in that we try to appeal to people's thoughtfulness, and to what people already know about injury prevention," he adds.
The holiday campaign will run into the new year, with cinema spots appearing Dec. 14 to 18, and the Sears Tower projection wall being lit up Dec. 14, 15, 21 and 22.