Toronto Star unveils new website
The updated Star Media Group site features the new myStar reader customization tool.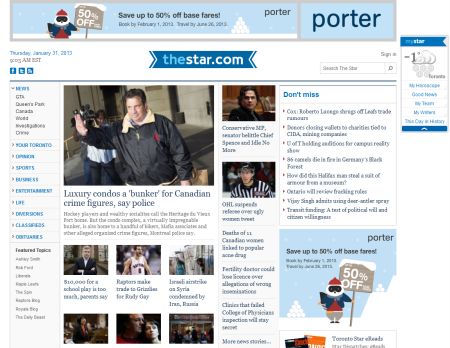 The Toronto Star has updated its website, reorganizing content and adding new sections, including Your Toronto, Homes, Health & Wellness and Personal Finance.
Ali Rahnema, VP digital media, Star Media Group, tells MiC rethinking the user experience on the site began in the fall of 2011, with new coding on the site starting in the summer and fall of last year.
"The redesign brings together a bunch of principles, making it cleaner and easier to use, showcasing the content and the journalism and making a better environment for advertising that is much more flexible," he says.
The redesigned site uses a modular design which allows ads to be placed quickly without the need for a lot of development time, says Rahnema. He adds this allows agencies to produce the kind of "never before seen" executions clients are so often asking for.
"About half of our users come directly to the site and the other half come through social media and links from other sites, so they are coming straight to an article so we need to showcase as much of our content as possible on every page that acts like a homepage. Each page lists the top news and other pages, which are related to the page you are looking at."
Also included in the redesigned site is myStar, a tool that gives readers the opportunity to save articles to read later, follow certain writers or sports teams and customize weather forecasts and horoscopes.
Rahnema says the launch of the redesign this week is not an indication that the site's paywall, which was announced last fall is about to go up, noting that plans to roll that out are still a few months off.
Thestar.com got an average of 3.1 million unique visitors from October to December 2012, according to data from comScore provided by the Star Media Group.