eLuxe launches partner website
The Luxe Life will work with eLuxe to deepen its content offerings, and offer advertisers traditional display ad and sponsorship opportunities.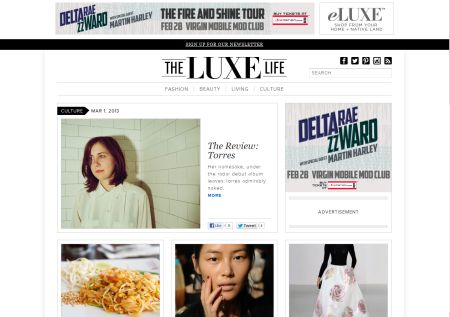 Women's fashion site eLuxe.ca is looking to offer its users a wider variety of content with tomorrow's launch of its partner site, The Luxe Life.
Targeting women aged 25 to 45, The Luxe Life will have its own editorial staff, and provide lifestyle content that is complementary to eLuxe's product offerings, under the categories of fashion, beauty, living and culture. eLuxe was launched by CEO Joanna Track in 2011. Track also famously launched Sweetspot.ca, a female-targeted lifestyle site that was purchased by Rogers Media in 2010, and closed by the media co in 2012.
Kat Peterson, publisher, eLuxe, tells MiC that The Luxe Life is designed to work symbiotically with eLuxe, which will continue to focus on providing its users with shoppable content and fashion tips via its weekly online issues and newsletters.
Peterson adds that the new site was a natural extension of eLuxe, noting that it will allow the brand to broaden its audience beyond e-commerce shoppers, as well as introduce new users to e-commerce.
The Luxe Life will offer ad opportunities similar to those on eLuxe, including traditional banner and box ads and custom content integration and sponsorship opportunities.
According to comScore data from January, eLuxe currently sees an average of 100,000 unique monthly visitors, while its newsletter has 35,000 subscribers.