Space rebrands
The Bell Media channel is aiming to better reach its existing target, and has kicked off a campaign promoting its new look.
Bell Media's Space has launched a rebrand, aimed at better reaching its audience and also representing the content on the channel, which doesn't centre on outer space like it used to.
"The programming on Space is pretty diverse, and the primetime lineup doesn't actually have any programs in it that occur in outer space," Justin Stockman, executive director of marketing, specialty channels, Bell Media, tells MiC. "The new look is a lot more contemporary, it's less about outer space and more about what space can mean in other ways. We are not targeting a new audience, it's more about reaching the audience we already have in a more effective way."
Stockman says the channel targets both the 18-to-49 and 25-to-54 demographics, with the younger group tuning in more. He says the target is affluent, and an even split between men and women.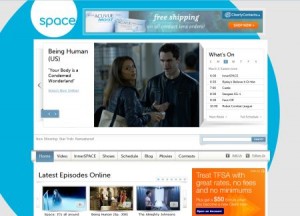 The new look is centred on the tagline "It's all around you," and will be promoted with a multi-platform campaign appearing both through Bell Media assets and through an OOH takeover at Toronto's Yonge and Bloor TTC station and pre-roll ads at Cineplex theatres in Toronto, Calgary and Vancouver. All media and creative elements of the campaign were created internally at Bell Media.
The campaign is timed to launch with Space's top series Doctor Who, which returns with new episodes on Saturday March 30 at 8 p.m., followed by the premiere of Orphan Black at 9 p.m.