The Vancouver Aquarium shares shark facts
The aquarium is promoting its winter exhibit with little known facts about sharks and rays.
The Vancouver Aquarium is promoting its "The Secret World of Sharks and Rays" exhibit with a campaign from Taxi.
Kevin Barclay, executive creative director, Taxi, tells MiC the multi-platform campaign is targeting families as well as tourists with local TV, radio and OOH spots.
The campaign uses little known facts about sharks, like "the only bones in a shark's body are the ones it's eaten" to draw attention. Barclay adds an OOH set of posters running along the waterfront change as the tide does, with only a shark's dorsal fin being visible at high tide and a set of sharks and rays being revealed at low tide. The Secret Life of Sharks and Rays runs at the Vancouver Aquarium until the end of April.
Taxi also recently converted Vancouver streetlights into anglerfish to promote the Vancouver Aquarium's winter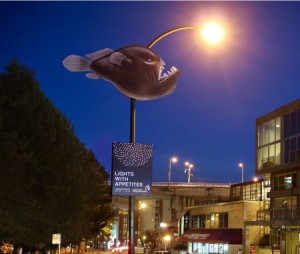 Luminescence exhibit, which features bioluminescent light in a season blanketed by darkness. The insight to turn streetlights into the fish came from Taxi writer Alex Bird, says Barclay.
A poster below the streetlight executions said "Lights with appetites" and promoted the exhibit, which was at the aquarium until the end of January.