Kanetix kicks off rebranding campaign
The insurance comparison company's new brand position and website focus more on the educational pillar of its business.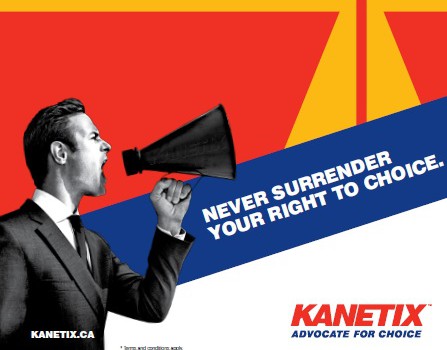 To support its recent rebrand and the launch of its new website, Kanetix has kicked off a campaign that promotes its brand positioning as an educator, advocate and trusted provider when it comes to financial services.
With media and creative by the Brand Factory, the insurance comparison site's campaign targets adults aged 20 to 35, with a slight male skew. It relies heavily on digital advertising, including homepage takeovers on Thestar.com and ads across other Torstar properties, as well as ads on Metroland properties. It also features print ads in the Toronto Star and in select Metroland community newspapers.
Janine White, VP, marketplace, Kanetix.ca, tells MiC that leveraging the brand's existing relationship with Torstar, which started when Kanetix purchased Insurancehotline.com six months ago, allowed it to target a broad core audience in the GTA. Meanwhile, print ads in Metroland newspapers offered the brand an opportunity to expand its reach in communities where it already has a strong presence.
White says that the rebrand was influenced by consumer research that suggested that Kanetix's customers were looking for trust, choice and accurate information from the brand's service. To this end, the new brand image features a bolder red and yellow colour scheme that is accented by black and white images, while its messaging focuses more on the brand's educational pillar, with taglines like "smarter, faster, friendlier" and "democracy for your dollar."
The campaign to promote the rebrand will run until the end of November, with a heavy emphasis on the launch period in March and April.