Vancity Credit Union changes it up
The bank is using an OOH-driven campaign with a superboard that features an image made entirely of pennies to promote its "Good Money" message.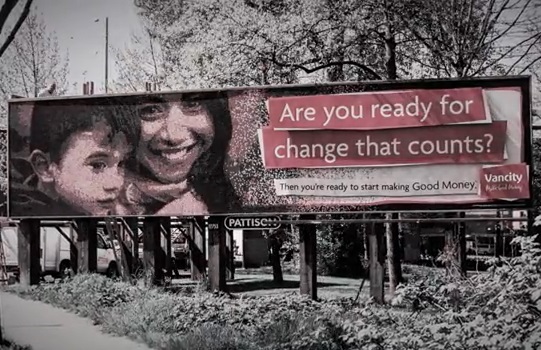 Vancity Credit Union is looking to attract new clientele and extend its "Good Money" brand message through a new campaign with media and creative by Wasserman and Partners.
Targeting adults aged 25 to 55, the campaign relies heavily on OOH ads on buses, bike lockers and bike racks in Vancouver and Victoria, as well as a superboard. Located near Granville Island in Vancouver, the superboard features the tagline "Are you ready for change that counts? Then you're ready to start making Good Money" and features an image made up entirely of pennies. The campaign will be supported by TV spots and digital pre-roll, which will roll out later this month.
Pauline Hadley-Beauregard, VP, Wasserman and Partners, tells MiC that Vancity chose green buses as well as bike racks and lockers to reflect its environmental brand values. She adds that Vancity also worked with local social enterprise organizations, employing physically and mentally disabled people to help with the superboard as part of its commitment to investing in the community – a key pillar of its "Good Money" branding.
Hadley-Beauregard says that, depending on its success, the campaign will run until the end of 2013 or into early 2014.