Sodastream challenges big soda companies
The brand, which offers a line of home soda machines, is using a window display in downtown Toronto to position itself as an eco-friendly alternative to bottled pop.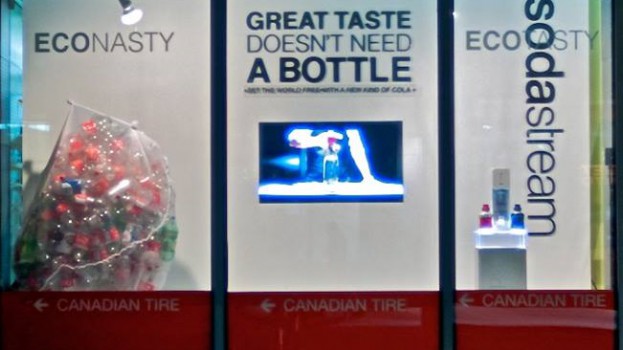 Sodastream is taking on big-name soda companies with a new OOH campaign in downtown Toronto.
Targeted primarily at moms and kids, the campaign consists of a window display execution at Canadian Tire, one of the stores that carries the brand's soda machines. The display, called "Econasty vs. Ecotasty," was conceived by Sodastream's internal marketing team and executed with help from The Mint Agency. It attempts to illustrate the environmental benefits of using Sodastream machines over continuing to consume soda from bottles and cans.
Sam Margolis, director of communications, The Mint Agency, tells MiC that the window execution is consistent with the brand's reputation for being "controversial" with its advertising, noting that many campaigns, including the recent "Game Changer" spot that was supposed to kick off during this year's Super Bowl, have been pulled from TV due to lobbying from big soda companies.
Margolis says this campaign differs, however, because it uses bottles with the brand names and labels still attached, as opposed to removing the labels and using indirect references to big soda brands.
The current execution will be on display for three months, but Margolis says Sodastream is negotiating with partners to have displays put up at other stores across Canada.
She adds that Sodastream is also in the early planning stages of a new campaign that will roll out in Q3 and Q4, ahead of the holiday season.