Colgate helps out anonymously
The dental care company is launching its new Colgate Slim Soft toothbrush with a campaign that sends tweets to friends who have a little something in their teeth.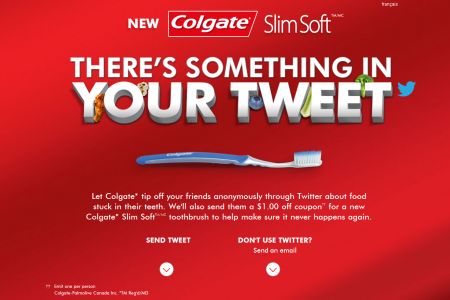 There are people who will tell you if you have something in your teeth and people who won't. If you're out with someone who falls into the latter category they might feel more comfortable sharing the news that you have a little something stuck in your teeth through Colgate's new "There's something in your Tweet" Twitter app.
With media from Active Media and creative from Union, the Twitter-based campaign was launched to promote the brand's new Colgate Slim Soft toothbrush. It allows people to send anonymous tweets to friends saying they have something stuck in their teeth, along with a $1 off coupon for the new brush. Getting down to the nitty gritty, the app, which is being promoted with digital and OOH ads even allows users to tell people what the offending food particle is.
Dave Carey, partner, Union, tells MiC the campaign wanted to use Twitter, as the launch target demographic of 22- to 35-year-olds are heavy tweeters.
The campaign, which is in market for eight weeks can be seen through 260 mirror decals in restaurants and bars across Toronto as well as through digital ads across the Shaw Media, Postmedia, Canoe, Glam and Globe and Mail networks.